Living Sculptures Theatrical Agency
Since 1994, Living Sculptures has been thé theatrical agency for Living Statues and – Sculptures in Europe, and has been engaged in stationary and mobile acts. More than 100 characters, from realistic statues to more imaginative figures, tell their fascinating stories in a silent, intimate and interactive performance.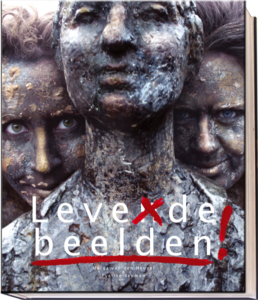 Eveline Beuman and Marga van den Heuvel created a book about Living Statues. The book "Leve(n)de beelden!" is an original work in which the statues speak (at last). The book is an accessible, freely designed coffee table book of 260 pages, bursting with full-colour photos, background information, anecdotes, tips etc. A must-have for statue lovers or as a unique corporate gift.

Order the book